Available at Olalla & Gig Harbor locations.

The Peninsula Pet Lodges Dog Daycare programs offer your dog a fun, safe and stimulating place to play while you are at work, cleaning the house, shopping or running errands. You don't want to leave your dog home alone all day. You know your pet needs the stimulation with other dogs and people, and to get enough exercise to stay healthy.
Our professional experience has shown that active and happy pets are healthy pets, especially when they are away from home. Dog Daycare benefits include:
Physical Exercise, Mental Stimulation, Social interaction, off leash play in a safe environment, and they have better manners with humans and other dogs.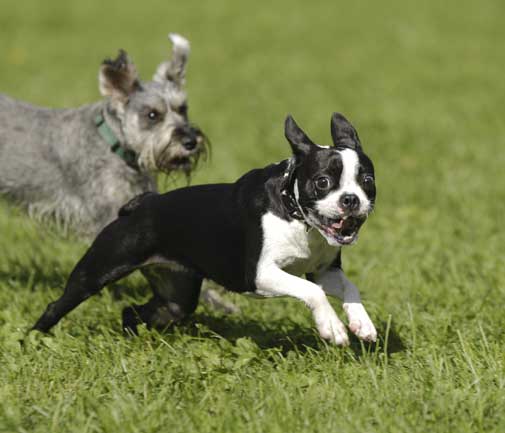 Our Doggie Day Care has both indoor and outdoor play areas. When it's miserable outside they can still have a fun time indoors, but when the weather is nice, there's nowhere your dog would rather be than outside, running and playing in the sun and fresh air. We have outdoor pools at both locations so your dog can have fun playing in the cool water during those dog days of summer.
We have accommodations for the young and old dog: play yards and toys for young and resting areas for the old. Our play groups are small and put together to match your dog's personality, active dogs are put together to frolic, and shy/low-key dogs are grouped with similar dogs. Also they are grouped so they are playing with approximately the same size dogs, large dogs together and small dogs together.
equirements
Dog Daycare Packages
All daycare packages expire within 60 days of purchase.
Other Options and Misc. Charges
Daycare VIP (Optional but highly recommended): $60.00
One time charge per year to insure the safety of your pet by covering up to $500.00 in vet costs if injury or illness occurs while playing with us. Pre-existing conditions not covered. Only covers pets with up to date vaccinations.
Late Fees: $6.00
Late fees are assessed per 10 minutes. Time is approximate and goes by our clock. Payment of this must be made when picking up your pet. Wait time is 20 minutes maximum.
Hours
Gig Harbor Dog Daycare Hours
Mon. - Fri.: 8:30 AM to 6:00 PM
Saturday: 8:30 AM to 4:00 PM
Olalla Dog Daycare Hours
Mon. - Fri.: 9:00 AM to 6:00 PM
Saturday: 9:00 AM to 2:00 PM